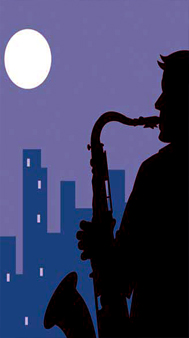 We've been around since 1954, when we first established our mission and purpose. We aim to help preserve, support and encourage traditional jazz. The Denver Jazz Club cooperates with other organizations and individuals in order to broaden the appreciation and understanding of traditional jazz in its various forms.
The DJC assists its members in deepening their experience with traditional jazz while offering a vehicle for thoughtful action on behalf of the music and its performers. We help improve the quality of life in Colorado by making traditional jazz an integral part of that life.
Every two months, the Denver Jazz Club publishes an excellent newsletter providing detailed information about our scheduled events. There is plenty of information about what is going on in traditional jazz all along Colorado's front range. Now, for those of you who just tuned in and aren't familiar with Colorado, the "front range" is that whole long north-south area up and down the state just east of those gorgeous mountains.
So you see, there is trad jazz activity going on in a lot of places in Colorado. In addition, each issue contains articles about the people who make and produce traditional jazz and also write-ups about our club's important role in traditional jazz education.
We host monthly concerts from 2-5 pm on the 3rd Sunday of each month.  Concerts are held at the Westminster Elks Club, 3850 Elk Drive, Westminster, CO 80030. These popular concerts feature the finest in traditional jazz entertainment from Colorado's front range and beyond. Dancers are always welcome!
Want to become a member? Our members are made up of folks like you who like traditional jazz and want to be a part of supporting it. Some are professional jazz players and educators and many are fans with a wide variety of backgrounds. But we all share a common interest — the preservation, expansion and enjoyment of traditional jazz.
Just fill out and send our membership application.